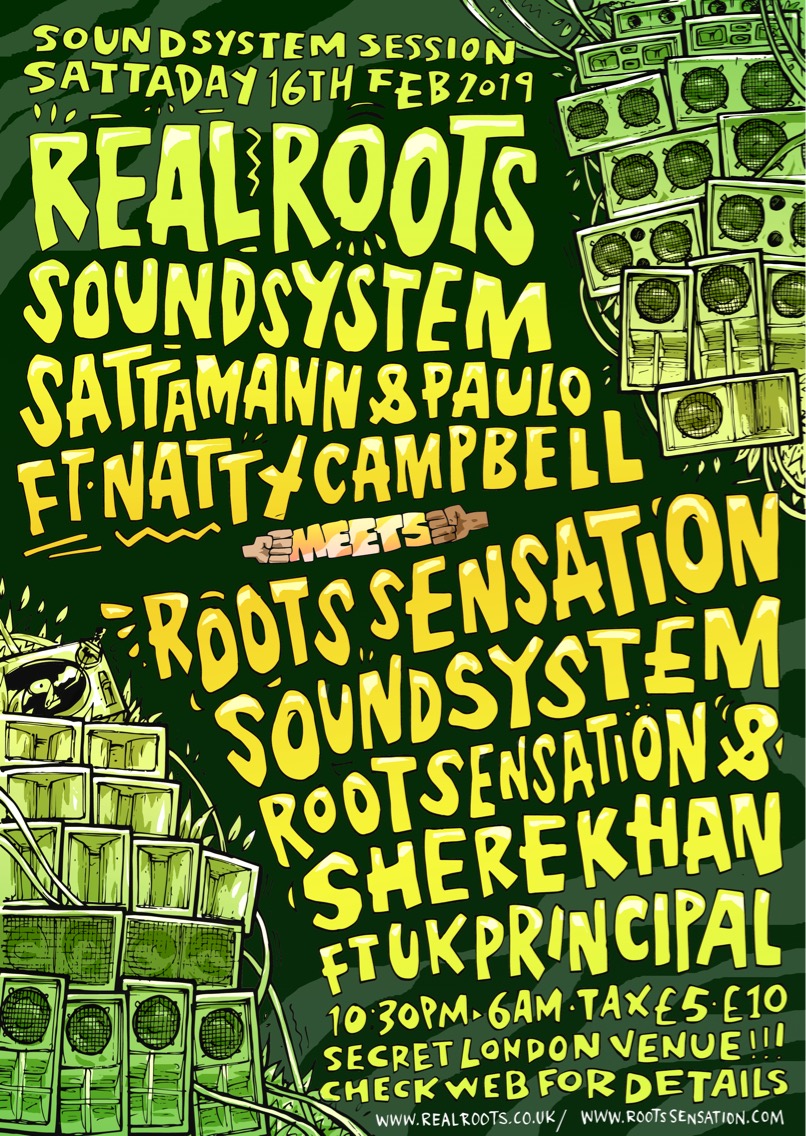 Soundsystem Sessions: Real Roots meets Roots Sensation
Real Roots Sound System meets Roots Sensation Sound System
2 of London's bass heavy roots reggae hand built soundsystems!
Venue: Secret to be announced here 24h before event. Great old school venue!
TICKETS: https://www.residentadvisor.net/events/1208376
£5 1st release
£10 2nd release
£10 OTD
? Real Roots Sound System (FULL SOUNDSYSTEM)
Sattamann & Paulo ft. ★ Natty Campbell ★
? Roots Sensation Sound System (FULL SOUNDSYSTEM)
Roots Sensation & Shere Khan ft. ★ UK Principal ★
★★★ Shere Khan earthstrong celebrations!! ★★★
✧ Fully stocked reasonably priced bar
✧ A fine selection of Caribbean food (Ital too)
✧ Arts & Crafts
✧ A good stock of vinyl for sale
✧ Great smoking area.
? 2 full stack 4 Scoops Each ?
Food stall by Wadada Vital
Records Stall by Roots Youths Records
Real Roots / Sound System
Launched in 2016! A traditional hand built, 4 scoop, pre-amp run analogue system. Strictly vinyl, strictly roots. Run, operated by Sattamann & Paulo! Joining them for this session is MC Natty Campbell London's young Lion with a big roar.
Roots Sensation / Sound System Roots Sensation
December 2017 saw the launch of his traditional heavy weight Sound System and this session sees/hears it in its entirety, 4 scoops and everything up, towering up!! Bass full, sirens and all! Rob Roots Sensation producer, label, sound system.
Roots Sensation (Roots Sensation & Roots Traders Records) selects the best of roots & culture to steppas vinyl only set.
Shere Khan Shere Khan Sound
Has been learning and absorbing information from the great Channel One Sound for the last 4 and a half years. He has also been selecting tunes weekly on London's LIFE FM for nearly 5 years and currently works at Dub Vendor Records.