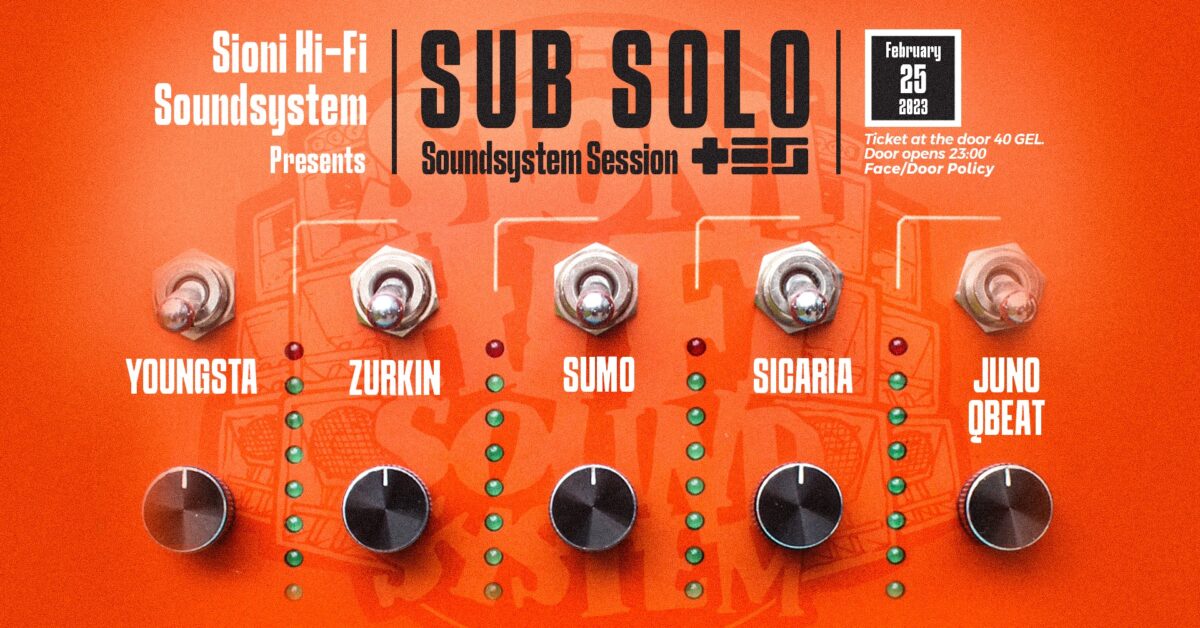 Sioni Hi-Fi Soundsystem takeover Version 05- Youngsta| Sicaria| Zurkin| Sumo|Juno Q Beat Selectah
Tbilisi massive and crew here we go again 🙂
We would like to welcome you on full on UK Deep Dubstep experience spiced up with some Dub and Steppa sounds. This one will be a legendary session and can't be missed.
To push the Bass culture in Georgia even more we made this special gathering for you:
From our local Bass music pioneers we would like to add to the fold old school heads from them days,man like Zurkin from Vodkast crew . Big man like Sumo from 303Hz and Mzesumzira crew and Juno Q Beat man behind Sioni Hi-Fi Soundsystem.
Straight from London massive:
DJ Youngsta is a renowned and pioneering Dubstep DJ who has been at the forefront of the genre since its emergence in the UK. With a passion for bass-driven music that started at the young age of 12, he has become one of the most influential and recognisable figures in the Dubstep scene. His journey as a DJ has been marked by an innovative and forward-thinking approach, captivating audiences with his dynamic performances and at the same time providing supper heavy pants shaking sub bass experience . Youngsta's seamless mixing skills and diverse musical knowledge have earned him a loyal fanbase, and he is recognised as one of the earliest Dubstep innovators in the UK. Whether you're a die-hard Dubstep fan or just looking for a night of wild, bass-fueled excitement, DJ Youngsta is the DJ to watch, continuing to push the boundaries of the genre with each and every set.
Operating under a nuanced identity, Lou Nour seeks to carry forth the legacy of successful predecessor Sicaria Sound via the conception of Sicaria: a persona marking her solo endeavours into the world of electronic music. Characterised by her boisterous personality and fueled by her passion for the genre, Sicaria continues to be strongly praised within the dance-music community for supporting everything which is exciting and forward-thinking in dubstep, cementing her status as a heavyweight advocate for lively, chest-rattling 140 bpm sounds.
Info
25/02/2023 23:00h
Sioni HiFi Soundsystem
Artist/s:
Youngsta,Sicaria,Zurkin,Sumo,Juno Q Beat,Sioni Hi-Fi
tes TES club, Dodo Abashidze Street, Tbilisi, Georgia
Presale