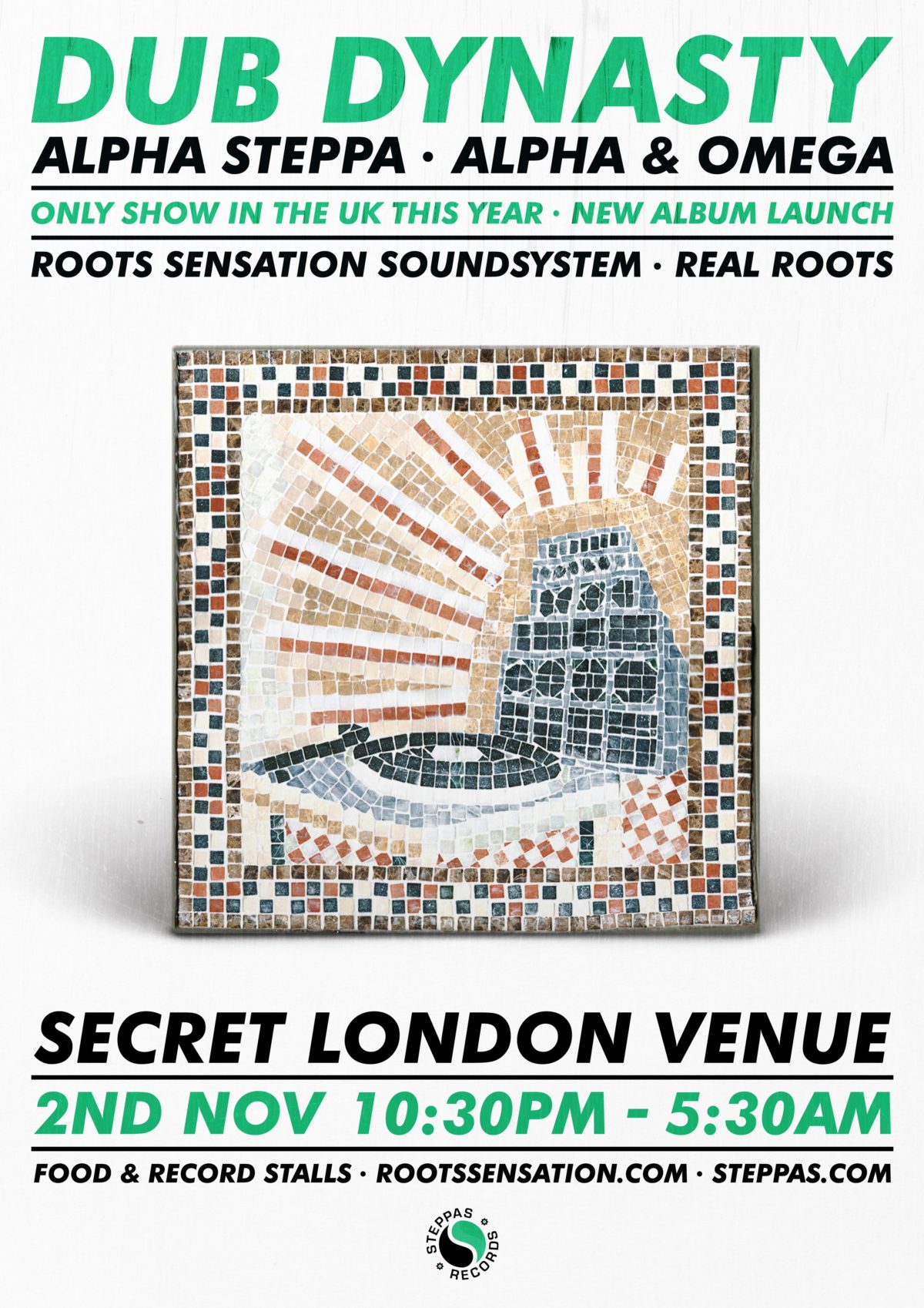 ROOTS ON THE CORNER PRESENT:
2ND OF NOVEMBER FROM 10:30pm TILL 5:30am
DUB DYNASTY•ALPHA STEPPA•ALPHA&OMEGA
NEW ALBUM LAUNCH - THE ONLY SHOW IN UK THIS YEAR!
✧ Alpha Steppa & Christine Omega + Ras Tinny (Live)
✧ Alpha Steppa Selection
✧ Real Roots (Sattaman&Paulo) Warm Up Selection
✧ Powered and selection by Roots Sensation Sound System 6 scoops!
✧ Record Stall w/ Signed Ltd. Ed. Stock
✧ Fully stocked reasonably priced bar
✧ Food stall by Wadada Vital a fine selection of Caribbean food (Ital too)
✧ Great smoking area.
? 1 full stack 6 Scoops ?
Alpha Steppa (Steppas Records / Dub Dynasty / Trigram / DUBPL8)
The son and nephew of UK dub pioneers Alpha & Omega (Greensleeves/VP) and flag bearer of a rich musical lineage, Alpha Steppa has come to represent considerably more than just the 'new school' dub-roots-reggae hybrid productions he's become globally known for. Crucially, his relevancy in clubs and festivals around the world is underpinned by a philosophy and ethos that promotes inclusivity and togetherness.
Having spent some formative years in Bristol's fertile UK bass and dubstep scene circa 2008, coupled with foundations in traditional roots and dub, filtered through the myriad world music influences absorbed through his extensive travels, Alpha Steppa's music speaks not only with a unique style and relevancy, but also carries a message.
Currently championed by a range of soundsystems and DJs from across the bass music spectrum – from roots veterans like Jah Shaka & Channel One, to UK steppas pioneers Iration Steppas and household dubstep names such as Rusko & VIVEK – Alpha Steppa and his label Steppas Records have become internationally known for what they call the 'conscious bass music movement'.
Roots Sensation / Sound System Roots Sensation
December 2017 saw the launch of his traditional heavy weight Sound System and this session sees/hears it in its entirety, 4 scoops and everything up, towering up!! Bass full, sirens and all! Rob Roots Sensation
Info
02/11/2019 22:30h
Roots Sensation Sound System
Artist/s:
dub dynasty, alpha steppa, christine omega, ras tinny, roots sensation, real roots
TBA 66 S Access Rd, Walthamstow, London E17 8AX, UK
Presale