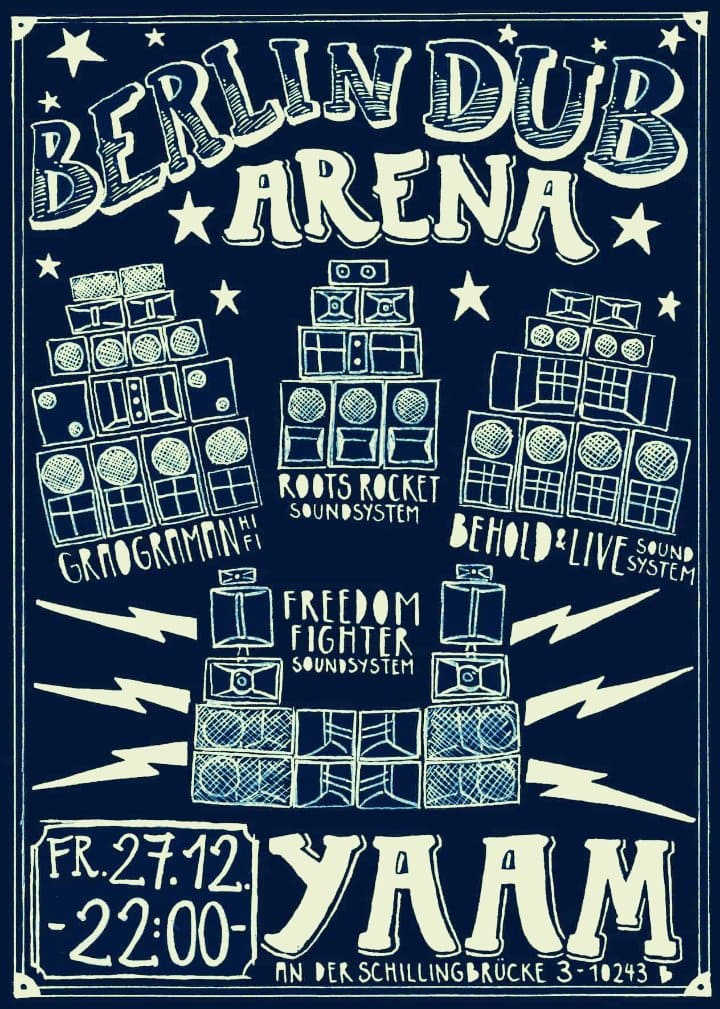 Berlin Dub Arena – 4 Soundsystems in session!
On 27th of december Berlin Soundsystem Kollektiv will join forces in one arena for the first time. All four soundsystems will stack up their unique set of speakers to make your ears tremble, your belly rumble and your feet skank all night long!
The evening will start nice and easy at 10 pm. The first round will be 30 minutes each and every sound will present its style and warm up the night with a fresh selection. At midnight sharp, the rounds will start to shorten and we will ramp up the stakes until the final tune fi tune. Each sound will be digging deep in their boxes to bring you a quality night of heavy roots and dub music inna heavy rotation style:
? Behold-and-Live Soundsystem
Deep and heavy roots music
? Freedom Fighter Soundsystem
Rooted in tradition – advancing to the next level!
? Graograman Hifi
The vibes blasting Street Warrior
? Roots Rocket Soundsystem
Tunes from old to new - Roots Rock Reggae & Dubwise
Expect earth-shaking bass, crystal clear mids and razor-sharp tops on heavy duty all night long for you, your friends and all family in the dance!