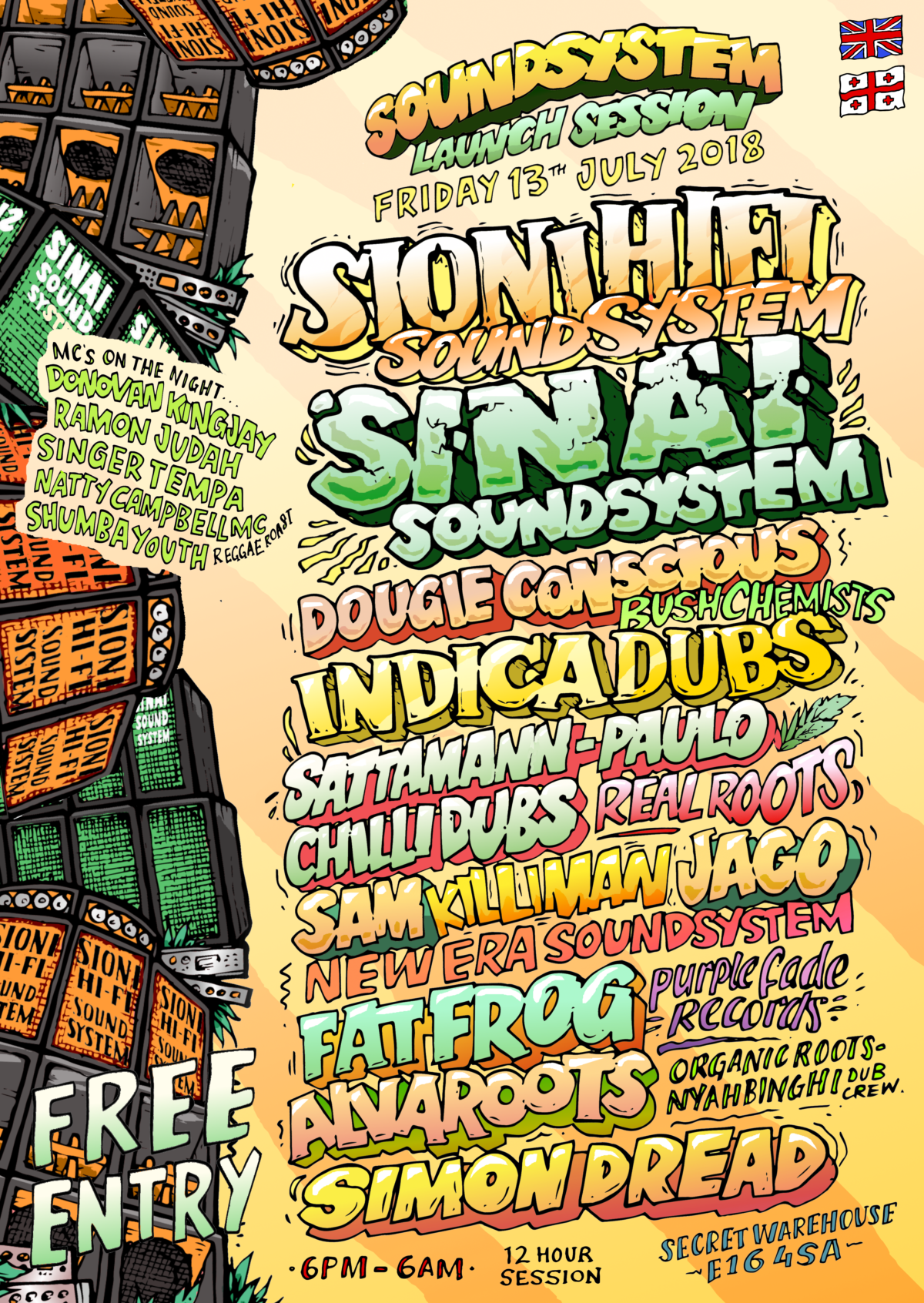 Soundsystem Launch aka "First Dance-London" Meeting with Sinai Soundsystem-12 Hour Dance
?FREE ENTRY ALL NIGHT?
A night of bass heavy dubwise sounds from some of the finest DJs & MCs playing through 3 heavyweight hand built soundsystems in Londons best new warehouse club near docklands.
?? ?? ?? ?? ??
?BIG BASS ALERT?
Friday 13th July 2018 6pm till 6am
Soundsystem Launch Session:
?Sioni HiFi Soundsystem ??
meets
?Sinai Soundsystem ??
?With support of costumed built in-house Funktion-One Sound System test set.
With special guests:
?Dougie Conscious (Bush Chemists)
?Indica Dubs
? Sam'Killiman'Jago (New Era Soundsystem)
?Fat Frog (PurpleFade records)
?Alvaroots (Organic roots/Nyahbinghi Dub crew)
?Simon Dread
?Paulo (Real Roots)
?Chilli Dubs (Real Roots)
?Sattamann (Real Roots)
MCs:
?Donovan Kingjay
?Ramon Judah TBC
?Singer Tempa
?Natty Campbell MC (Reggae Roast)
?Shumba Youth (Reggae Roast)
DUB/STEPPAS/REGGAE/DUBWISE
Secret warehouse location
E16 4SA
Star lane (DLR) - ( 5min walk )
Canning Town(Jubilee line) - ( 8min walk )
Just opened: London's newest super club and best kept secret! Full bar & smoking terrace. Friendly security!
?Record store will be provided by JahT
?Food would be available at the terrace
?Minimum Age:21?
Venue capacity is limited so pls get down early to avoid disappointment!
?? ?? ?? ?? ??
Info
13/07/2018 18:00h
Sioni HiFi Soundsystem
Sinai Soundsystem
Artist/s:
Dougie Conscious (Bush Chemists),Indica Dubs ,Sam'Killiman'Jago (New Era Soundsystem),Fat Frog (PurpleFade records),Alvaroots (Organic roots/Nyahbinghi Dub crew) ,Simon Dread,Paulo (Real Roots),Chilli Dubs (Real Roots),Sattamann (Real Roots),Donovan Kingjay,Ramon Judah TBC,Singer Tempa,Natty Campbell MC,Shumba Youth
Fold Stephenson Street, London E16 4SA, UK