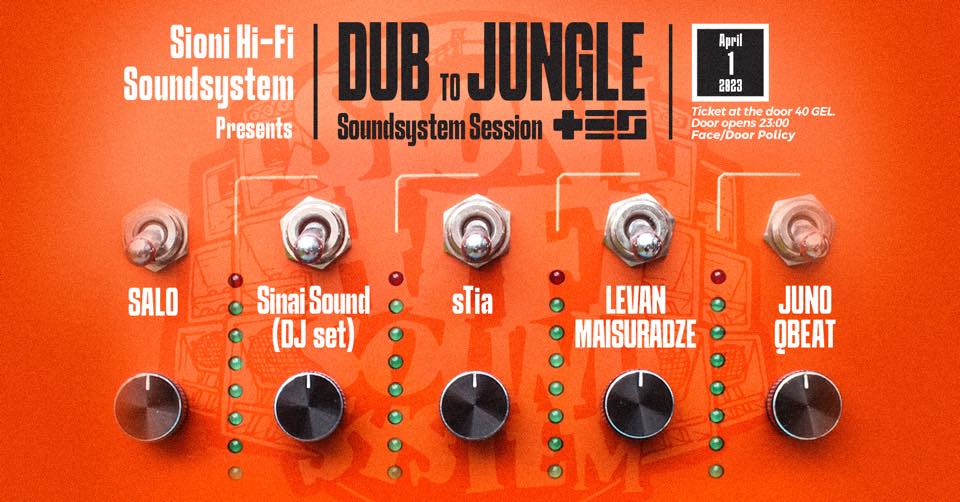 Sioni Hi-Fi Soundsystem takeover Version 06-Sinai Sound/Salo/sTia/Levan Maisuradze/Juno Q Beat
This is Sioni Hi-Fi Soundsystem StringUp session number 21 and Version 06 of the Tes's takeover.
1st of April will be the Dub to Jungle - The Warrior Dance as we bring back Steppa style Dubs into the session followed by Jungle warriors from our own growing Local and UK scene. Expect heavyweight positive vibration with speed lanes from 70 to 180 and back to 70 with no timetable
Chaffed to bits they say 🙂 we are indeed as Cheff is coming back to Tbilisi to run his killer Dubplates on the Soundsystem in which he has the direct insolvent 😇who knows our soundsystem origin and the story behind ithe definitely knows this name! Specially love for this mad man 🙂 in 2017 he offered us to drive our soundsystem from London to Tbilisi in his van maddd maad :))
Huw aka Cheff aka Sinai Soundsystem aka Green Dub Machine from Sheffield . Control tower operator and selector of The most Heavyweight and clean sound so far in our humble opinion.
What a great pleasure it is to introduce Georgian Jungle head from Manchester ! Yes Yes 🇬🇪 massive and crew.
Salo is the future face of Jazz and Soul music. The Georgian singer, songwriter, producer, Jungle/DNB DJ and pianist is one of the most exciting artists breaking through in the scene right now. Taking influence from neo soul, old jazz, blues and Georgian polyharmonies, her songwriting and vocals make it hard to believe she's only 23 years old. It's impossible to directly compare her to any artist as her personal lyrics and traditional Georgian influenced harmonisation make her stand in her own lane completely.
She's currently just commercially released 5 songs, 2 of which are house collabs that have both racked up millions of streams, 2 jungle collabs with Chimpo that shook up the DnB scene and a track with liquid DnB producer Dogger that raised funds for the trouble in Palestine as well as a tune with Voltage and Aries. The best however is still to come, a strings of collabs with some of the biggest producers in UK underground danc
Info
01/04/2023 23:00h
Sioni HiFi Soundsystem
Artist/s:
Sinai Sound,Juno Q Beat,Sioni hi-fi,sTia,Salo,Levan maisuradze
TES club, Dodo Abashidze Street, Tbilisi, Georgia
Presale