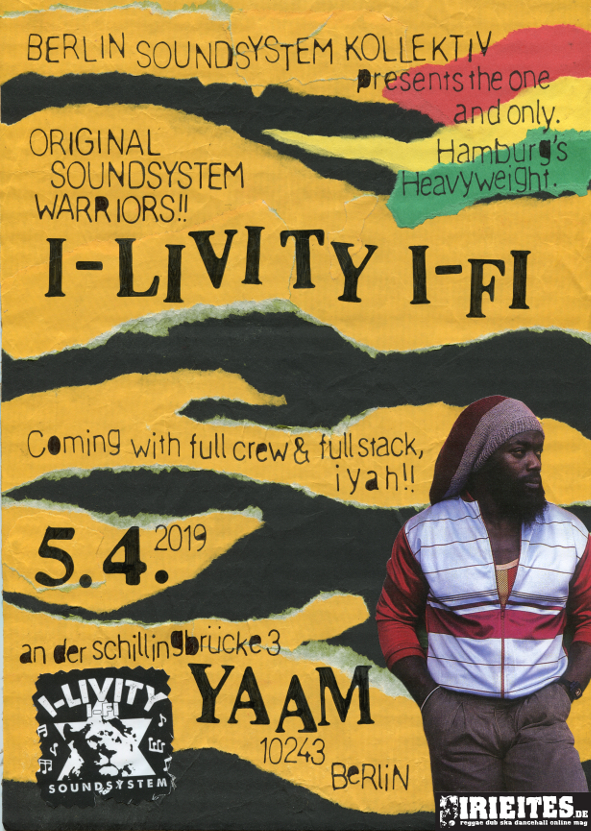 I-Livity I-Fi with full Soundsystem & Crew!
Facebook: https://www.facebook.com/events/502888650233972/
Berlin Soundsystem Kollektiv & YAAM present: I - Livity I-Fi (Full Soundsystem/ Full Crew)
Greetings and a warm welcome, people!
We are extremely thrilled to have Hamburg's heavweight I-Livity I-Fi at YAAM with full stack & full crew! A night of pure and raw sound system culture is to be expected!
I-Livity I-Fi: Sound system activists for more than 20 years, yet it's not often that we have them here in Berlin, so make sure to gather round and invite everybody you hold dear to this heavyweight session!
Just in case you don't know what to expect: Roots, Reggae, Dub and Steppers music played on a custom-built sound system! The sound from the turntable is split into several bands (usually sub-bass, bass, mids, tops) and amplified and sent seperately to the stack of speakers where they, once again, combine to give you a superior listening experience! Parts of the sound-spectrum are frequencies you don't hear, but only feel. And, oh boy, do you feel them!
Your Berlin Soundsystem Kollektiv
NO HOMOPHOBIA, NO SEXISM, NO RACISM, NO DISCRIMINATION & NO IDIOTISM- STRICTLY LOVE IS WHAT WE WANT! ♥
Info
05/04/2019 22:00h
Artist/s:
I-Livity I-Fi
Yaam YAAM, An der Schillingbrücke, Berlin, Germany
Presale