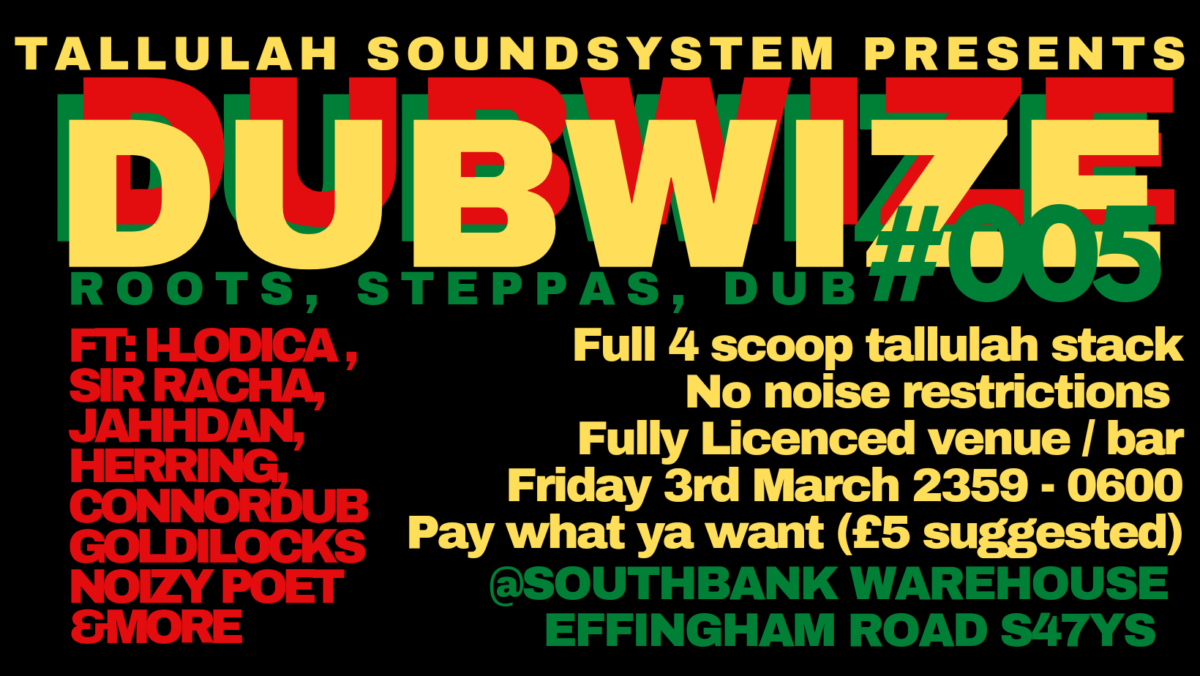 DUBWIZE#005:Tallulahsound.SirRacha.Ilodica&more
babylon try stop the session but we adapt and overcome, relocate and reschedule 💚 ya gonna need to try harder to compete with my passion 🤣🤣
RIP "Section 80 Creative space" as we have no choice and strict instructions to prevent any future gatherings / events from our favourite spot.. keep an eye out for similar future projects from our collective. Anyway, on a more optimistic note meet DUBWIZE#005...
YESSSSSSSS PEOPLE!!💚💚
After a wicked 2022 we are keen to get our 2023 scheduele POPPING OFF! to ease us into the carnage we have planned this year we are kicking tings off with DUBWIZE#005👌❤🧡💚
Expect the most conscious roots and heavy steppas precisely selected by our wicked gathering of dub messengers:
SIR RACHA✅
I-Lodica✅
Jahhdan✅
Herring✅
ConnorDub✅
Goldilocks✅
Noizy Poet✅
MORE INFO ON PERFORMANCES COMING SOON..
We are aware this part of the year is financially crap, to shine some light on a dark patch we will run this session as "pay what you want" (£5 Suggested), come down and dance weather you're loaded or skint, although i am attempting to keep the events sustainable your vibes are more important than a couple quid 💚 please use this opportunity to bring your crowd to help build on the Tallulah family, also a good opportunity to convert your friends to dub heads 😁👌✅🇯🇲
🔈Roots and Steppas all night
📅Friday 3rd March
🕐2359 -0600
❗Full 4 scoop tallulah soundsystem stack
☀️Wicked vibes
🍻Fully Licenced venue
🚫No noise restrictions
💰Pay what you want (£5 encouraged)
👌@Southbank Warehouse
Effingham Road S47YS
see ya in the dance ❤🧡💚
Info
03/03/2023 23:59h
Tallulah Soundsystem
Southbank warehouse Southbank Warehouse, Effingham Road, Sheffield, UK