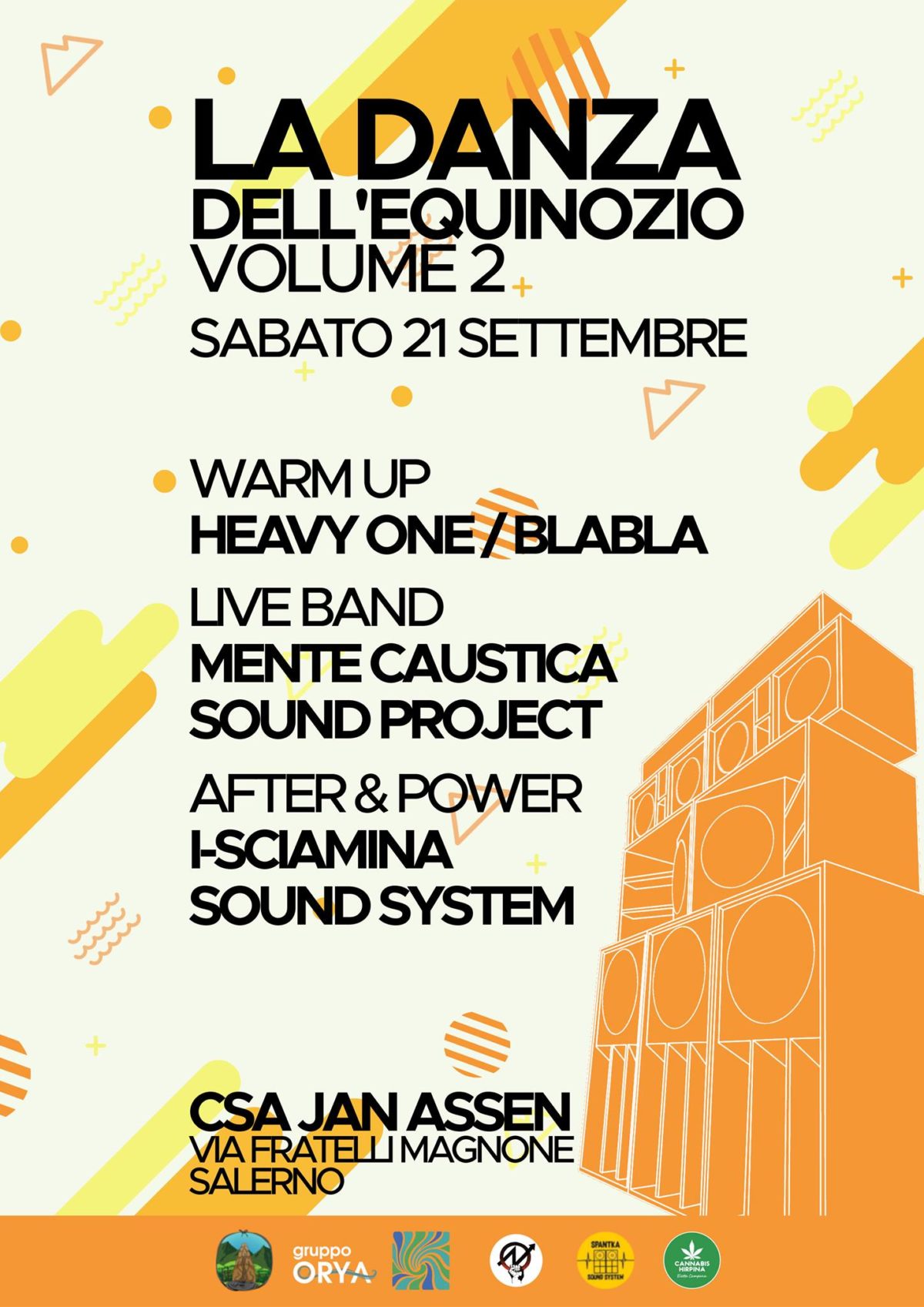 LA DANZA DELL'EQUINOZIO – VOL2 – CSA JAN ASSEN – 21/09
Date & Time:
21/09/2019, 20:00h
Type of session:
Session, Concert
Powered by:
Artist/s:
Live Band: Mente Caustica - Warm Up: Heavy One - BlaBla - Power and After I-Sciamina
Description:

I-Sciamina Sound System, Gruppo Oyra, guest e famiglia presentano:
LA DANZA DELL'EQUINOZIO Vol2
ospiti del Csa Jan Assen Salerno
Le danze cominciano dalle 20:00
Warm Up
Heavy One Selecta outta Salerno Reggae Family
Bla Bla
Live Band
Mente Caustica Sound Project
After show & Power
I-Sciamina Sound System
Food and Drink inna di Area by
Gruppo Orya & Picciotti Hyrpin Movement
CBD flowers inna di Area by
Cannabis Hirpina di Gerardo Molettieri
FreeStandArea
contattaci per esporre cose artigianali
La Danza dell'Equinozio è un buon augurio all'apertura della stagione musicale del centro che ci ospita e alle danze autunnali e invernali che verranno, per noi e tutti i sound reggae campani!
Vi aspettiamo in armonia per danzare, infuocare i microfoni e vivere una serata di socialità e Reggae Music dal live al vinile nella sera di San Matteo e la notte dell'equinozio!
No borders, mountain back to the sea!
Location:
CSA Jan Assen - Salerno , csa jan assen
Presale