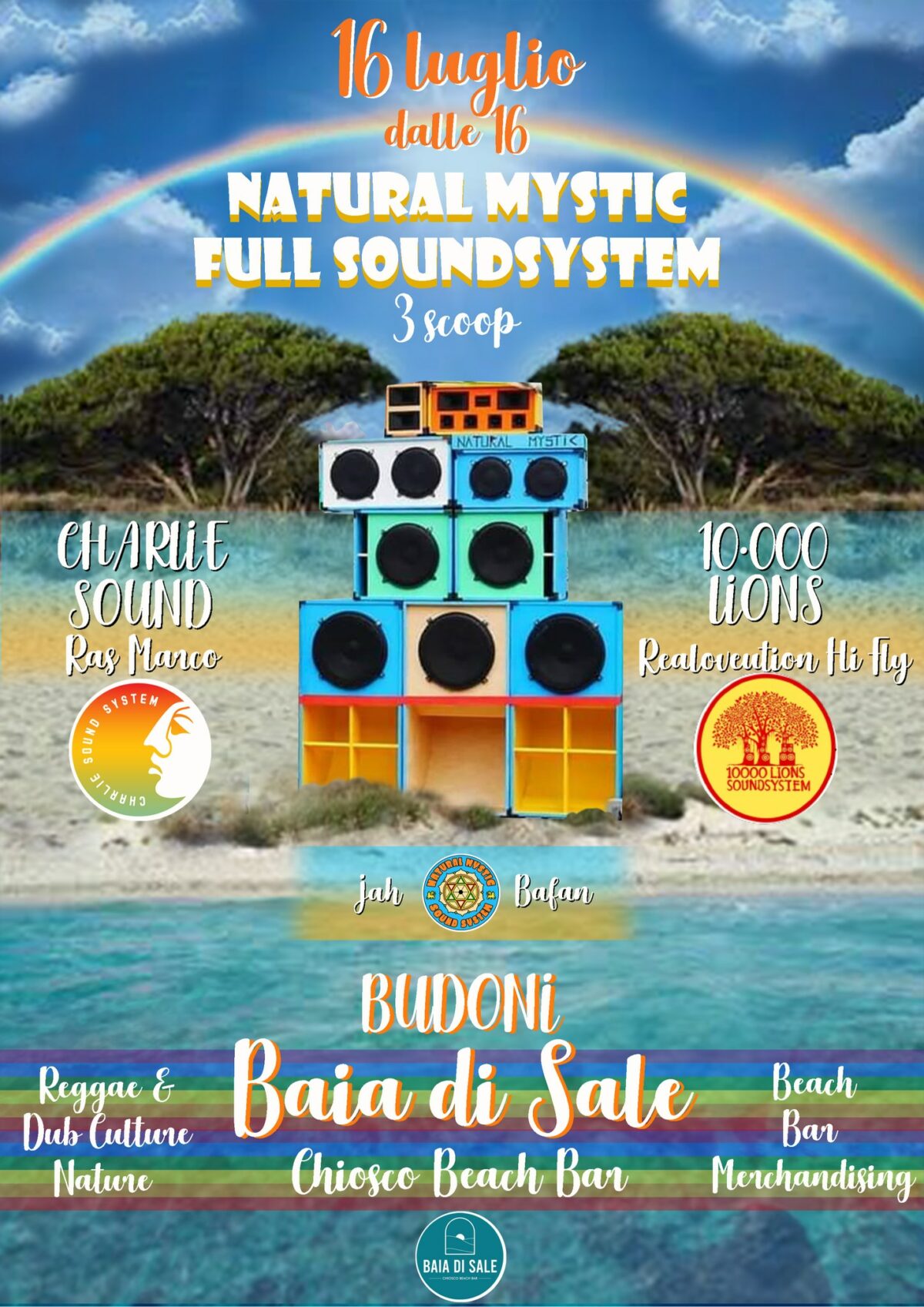 Natural Mystic Full Sound System feat 10,000 Lions, Charlie Sound & Jah Bafan
Saturday 16 July, in the north-east of Sardinia, Sound System, Sea, Reggae & Dub Culture, Love and Unity! Sabato 16 Luglio
ore 16:00
Presso: Baia di Sale (Chiosco Beach Bar)
in pineta nel mare di Budoni
Natural Mystic Full Sound System
(3 scoop)
feat 10,000 Lions & Realoveution Hi Fly,
Charlie Sound & Jah Bafan
Beach, Bar, Nature, Sound System Culture
10,000 Lions & Realoveution Hi Fly (Pierre Obino) parte nel 2002 da Torino per facilitare la diffusione della vibrazione cosmica guaritrice attraverso lo strumento ''Soundsystem & Giradischi'', nutrito con una selezione di vinili esclusivamente roots rock reggae. Dal 2002 ad oggi, Realoveution suona con una moltitudine di mc e cantanti da tutto il mondo, esibendosi nelle dancehall di tutta la Sardegna, in Italia a Genova con Lloyd Brown nel 2005, Bologna 2011, Torino 2004-2005-2006, Zion Station Festival 2013 a Ferrara, in Slovenia al Riversplash festival 2007 e 2008, in Germania a Dub on the river 2008, in Olanda al Queensday 2008, tournee di 20 date in India nel 2013 con uno dei top mc al mondo, MC Brother Culture, e continua con la diffusione di roots and culture in Asia con tournee in India e Nepal 2014 e 2015. Fondatore del Seminando Festival a Sassari nel 2006, uno dei primi dubclub in Europa, al quale hanno partecipato centinaia di top-artist Jamaicani, Inglesi, Africani ed Europei. Fondatore del Sardinia Reggae Festival nel 2008, festival reggae numero 1 in Italia, ora all' ottava edizione. Fondatore del Viddalba River Splash, Fondatore del 10,000 Lions Sound System e del Goa Sunsplash uno dei Festival più importanti nella scena Reggae & Dub Internazionale.
Natural Mystic Sound System & Jah Bafan
Natural Mystic non è solo un Sound System ma un unità, un Centro Universale.
Nasce in qualsiasi Luogo, in qualsiasi Cuore.
Il Movimento nasce nel 2013 ad Alghero (SS) per la passione della Reggae Music e tutto ció correlato al Messaggio Rasta.
Inizialmente Dedicato alla Collezione di Vinili dal Roots 70's al Dub 80/