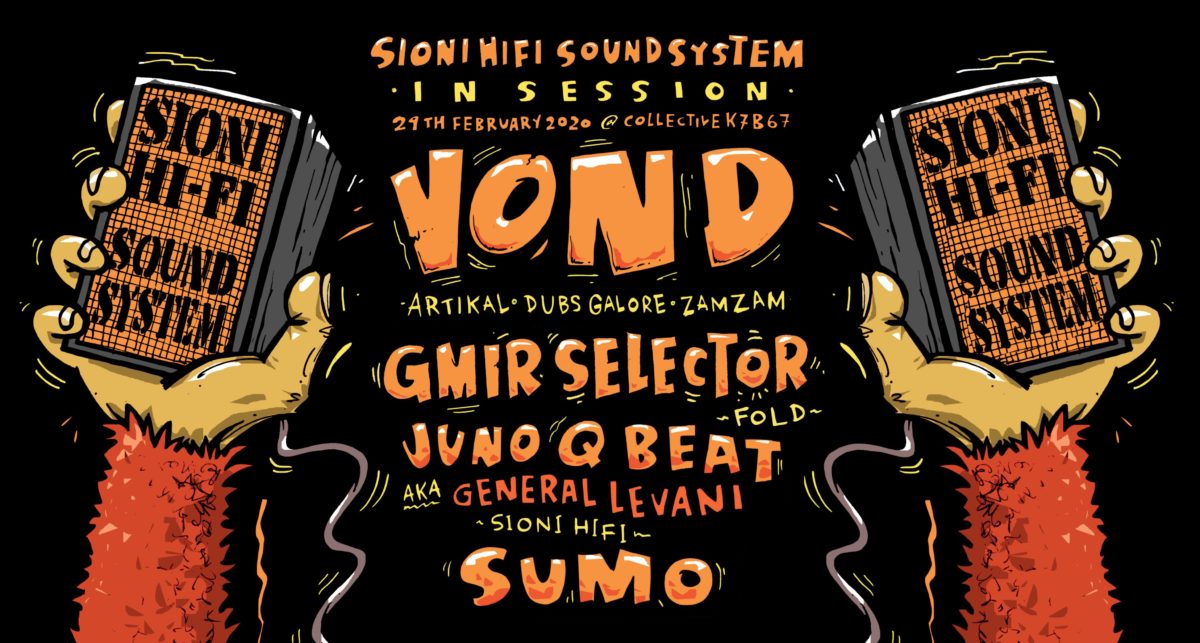 Sioni HiFi Soundsystem in session with Von D – Dubდღე Version 11
The 29th of February marks the date.
Sioni HiFi Soundsystem & Crew are back for another Dub Bass Soundsystem Session in collaboration with Von D at Collective K7B67.
For those of you who are not familiar with Von D, his work speaks for itself. As one of the cornerstones of the French Dub / Deep Dubstep scene, this incredible artist has performed from festivals to Soundsystem dances all around the globe.
With 3 Albums on his back and uncountable EPs with underground artists of the likes of O.B.S. Soundsystem, Numa Crew, Blackout Ja, Rider Shafique and Dubplates and collaborating with labels like Artikal, Dub Galore, ZamZam we are counting the days for this dance.
The session will be run by heavyweight man like sumo, Sioni HiFi Soundsystem tour operator Genera Levani Aka Juno Q Beat and Cockney Dub Club Flight attendant Gmir Selecta.
Don't miss your chance to listen to Dub Bass music on a hand built purposely tuned Soundsystem.
From Dub to Jungle and everything in between:
Von D ( Artikal / Dub Galore / ZamZam )
Gmir Selecta ( Cockney Dub Club / FOLD)
Juno Q Beat aka General Levani( Sioni HiFi Soundsystem )
Sumo
Von D:
https://soundcloud.com/vond
Sioni HiFi
https://soundcloud.com/juno_q_beat
Sumo
https://www.mixcloud.com/shotikotsverava/sumo-dubstep-reggae-dub-vol1/
NOTE :
Place is limited to 150 cap. Get your online tickets now to avoid missing THE Dance.
Cash ONLY at the Door - 25 Gel.
Age Control +18 No ID no entry
Address :
2 Monk Gabriel Salosi I Turn, 0113 Tbilisi, Georgia.
All tribes are welcome as usual!
Soundsystem is a Mission not the Competition!
The only Good system is the Soundsystem!
Info
29/02/2020 23:00h
Sioni HiFi Soundsystem
Artist/s:
Von D, Gmir Selecta, Juno Q Beat aka General Levani , Sumo
Collective K7B67 2 Monk Gabriel Salosi I Turn, 0113 Tbilisi, Georgia
Presale